RETURN POLICYWe do not offer refunds at this time. Organic by John Patrick offers exchanges or store credit only within 10 days upon receipt of goods. All discounted items are final sale, no exchanges. FOR EXCHANGES ONLYKindly, be as considerate as possible when it comes to exchanges. Items must be in original packaging, unused condition with original tags intact. We will ship you the exchanged items if they are available or you will be sent an electronic gift card. Any exchange requests falling outside of the 10 day time frame outlined above will not be accepted. Items returned without a return authorization will be refused. SALE PURCHASESALL SALE ITEMS ARE FINAL SALE. NO RETURNS OR EXCHANGES. INTERNATIONAL PURCHASESINTERNATIONAL SALES ARE FINAL SALE. NO RETURNS OR EXCHANGES. When shipping to international addresses, you will be responsible for import duties, fees and taxes upon delivery of your international order. This charge is determined by your local customs authority. We suggest contacting your local customs office for additional information on these charges.
Free Standard Shipping on Domestic (United States) orders. Free International Shipping on orders over $300.00. All International Orders must pay all custom and clearance related duties and taxes. Failure to do so will forfeit your ability to return your order. 2nd Day Air ($50) and Overnight ($100) is available to the continental US, must be placed before 1:30PM Eastern Time on a business day or it will ship out the next business day. International shipping for minimum orders of $150.00 is available for $50.00. We ship using UPS Express Saver for International shipping. Most orders are shipped by the next business day after they are placed. We will send you a shipping confirmation email to your provided email address when all or part of your order is shipped, which will include the tracking number. Domestic orders usually deliver within 5-7 business days. International orders usually deliver within 7-14 business days.
Description
Introducing our revolutionary Edible Spoons – the savoury solution that elevates your dining experience to new heights! Designed to tantalise your taste buds, our Savoury Flavoured Edible Spoons offer a delightful twist after finishing your meal.
Imagine savouring a bowl of steaming hot soup, a comforting plate of pasta, or your favourite curry dish or risotto. Now, envision taking that final bite with our Edible Spoon. As you bring it to your mouth, a burst of savoury flavours unfolds, perfectly complementing the flavours of your dish. It's the ultimate culinary finale, leaving you with a satisfying and unforgettable taste experience.
Crafted with care using premium ingredients, our Edible Spoons is not only a sustainable alternative to traditional spoons but also a bold exploration of flavour. Each spoon is meticulously infused with a range of savoury notes, carefully selected to enhance a variety of dishes. From rich herbs and spices to subtle umami undertones, our spoons add a tantalising layer of taste, turning your meal into an extraordinary feast.
Versatile and convenient, our Edible Spoons effortlessly adapt to any savoury dish. Whether you're enjoying a hearty bowl of soup on a chilly evening or diving into a luscious pasta creation, our spoons are there to enhance every bite. They add a touch of creativity and sophistication to your dining table, making every meal an exploration of flavours and textures.
But it's not just about the taste. By choosing our Edible Spoons, you're making a conscious decision to reduce waste and contribute to a greener planet. With each flavourful bite, you're joining a movement to minimise the environmental impact of single-use plastics. It's a small yet significant step towards creating a more sustainable future, one meal at a time.
So, why settle for an ordinary spoon when you can savour the extraordinary? Enhance your dining experience, tantalise your taste buds, and make a statement for the planet with our Savoury Flavoured Edible Spoons. Embrace the art of indulgence and sustainability, one savoury bite at a time.
Key Features:
Planet-friendly
Unique and Flavourful
Functional and Edible
Healthy
Ingredients: Whole wheat flour, Sugar, Cocoa, Salt, Sorbitol, Colours (E 129, E102, E133), Salt.
Dietary Consideration: Allergens: Contains Gluten
Versatile: Edible Spoons are the perfect companion for any savoury dish. Whether you're savouring a comforting bowl of soup or indulging in a delectable pasta. They bring a dash of creativity and elegance to your dining experience, transforming each meal into a delightful exploration of flavours and textures.
Shelf-Life: Best before 12 months
Nutrition Facts: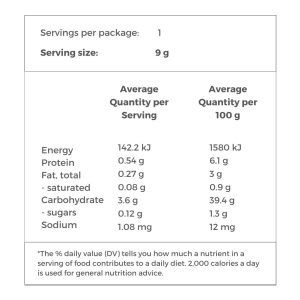 Additional information
| | |
| --- | --- |
| Weight | 1.5 kg |
| Dimensions | 180 × 75 × 55 cm |
| Size | Pack of 100 |