RETURN POLICYWe do not offer refunds at this time. Organic by John Patrick offers exchanges or store credit only within 10 days upon receipt of goods. All discounted items are final sale, no exchanges. FOR EXCHANGES ONLYKindly, be as considerate as possible when it comes to exchanges. Items must be in original packaging, unused condition with original tags intact. We will ship you the exchanged items if they are available or you will be sent an electronic gift card. Any exchange requests falling outside of the 10 day time frame outlined above will not be accepted. Items returned without a return authorization will be refused. SALE PURCHASESALL SALE ITEMS ARE FINAL SALE. NO RETURNS OR EXCHANGES. INTERNATIONAL PURCHASESINTERNATIONAL SALES ARE FINAL SALE. NO RETURNS OR EXCHANGES. When shipping to international addresses, you will be responsible for import duties, fees and taxes upon delivery of your international order. This charge is determined by your local customs authority. We suggest contacting your local customs office for additional information on these charges.
Free Standard Shipping on Domestic (United States) orders. Free International Shipping on orders over $300.00. All International Orders must pay all custom and clearance related duties and taxes. Failure to do so will forfeit your ability to return your order. 2nd Day Air ($50) and Overnight ($100) is available to the continental US, must be placed before 1:30PM Eastern Time on a business day or it will ship out the next business day. International shipping for minimum orders of $150.00 is available for $50.00. We ship using UPS Express Saver for International shipping. Most orders are shipped by the next business day after they are placed. We will send you a shipping confirmation email to your provided email address when all or part of your order is shipped, which will include the tracking number. Domestic orders usually deliver within 5-7 business days. International orders usually deliver within 7-14 business days.
Description
Only a few lines to be shown with the option to read more.
Text: Introducing our extraordinary Edible Straws – the game-changer in sustainable and flavourful beverage solutions! Immerse yourself in the world of eco-conscious indulgence as you sip your favourite drinks through our innovative creations.
Crafted with meticulous attention to detail, our Edible Straws are a blend of culinary expertise and environmental responsibility. We carefully select high-quality, food-grade ingredients to ensure a safe and delectable experience with every sip.
But what sets our Edible Straws apart is their transformative nature. As you place the straw between your lips, it becomes a vessel of excitement and anticipation. With each delicate sip, the straw begins to dissolve, releasing a burst of flavours that enhance your beverage and awaken your taste buds. It's a symphony of taste and sustainability, leaving no trace of waste behind.
Versatility is at the core of our Edible Straws. From frosty smoothies to piping hot coffees, they effortlessly adapt to any drink, infusing it with a touch of whimsy and elegance. Whether you're hosting a social gathering, dining at a trendy restaurant, or simply enjoying a refreshing drink at home, our straws elevate the experience, making it an unforgettable moment.
But it's not just about the enjoyment. By embracing our Edible Straws, you become part of a movement to reduce plastic waste and preserve our planet. With every sip, you're taking a stand for sustainability and inspiring others to join the cause. It's a statement of style, conscience, and the power of small choices to make a big impact.
So, why settle for the ordinary when you can savour the extraordinary? Elevate your sipping experience, make a statement for the planet, and indulge in the finest flavours with our Edible Straws. Join us in redefining how we enjoy beverages – one sip at a time.
Key Features:
Eco– Friendly
Delicious
Perfect for all types of beverages
Organic
Ingredients: Wheat flour, Sugar, Maltodextrin, Gluten, Vegetable glycerin, Sunflower oil, Pectin, Guar gum, Citric acid, Sucralose salt.
Dietary Consideration: Allergens: Contains Gluten
Versatile: Perfect for all types of drinks, from cold beverages like smoothies and milkshakes to hot favourites such as coffee and tea.
Shelf-Life: Best before 12 months
Nutrition Facts: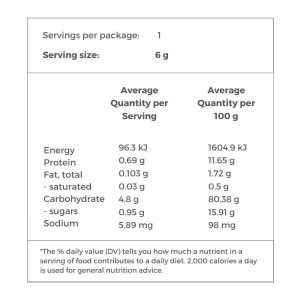 Additional information
| | |
| --- | --- |
| Weight | 1.5 kg |
| Dimensions | 180 × 75 × 55 cm |
| Size | Pack of 100 |